21st Annual Bob Novack Music Awards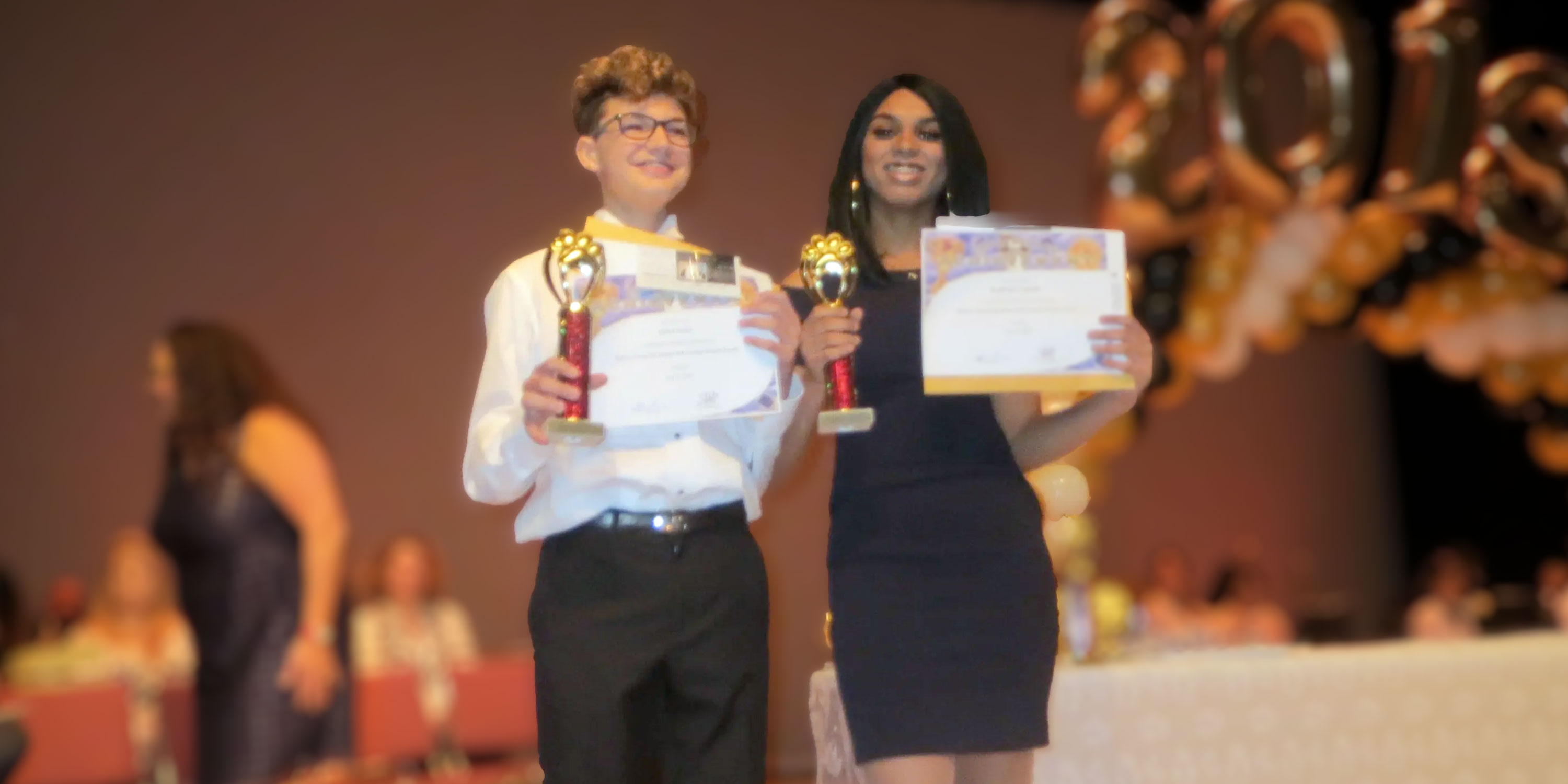 Since 1997, the Bob Novack Music Awards have recognized outstanding, dedicated music students and to bring attention to the value and importance of music education in our public schools. Sponsored by non-profit public service organization 1308 Productions, the Awards also are an occasion to applaud the excellent music educators who work in local schools.
Bob Novack was one of Florida's most talented musicians, band and orchestra leaders, and music teachers for over forty years. His music brought smiles to people's faces at everything from major events with audiences in the thousands, to countless special occasions, to cultural and religious celebrations of all kinds, to private parties with family and friends. In his honor and remembrance, the Bob Novack Music Awards recognize music students who have been chosen by school music faculty on the basis of love and dedication to music and a demonstrated ability to lift the lives of others through musical performance.
The 2018 Bob Novack Music Awards were presented to three outstanding student musicians. Each of the winners has developed significant talent that has been shared at numerous performances at schools and community events. These students mentor others and serve as positive examples in their schools. They are a credit to their schools and the entire community.
At Nautilus Middle School, legendary music teacher Ray Modia and the faculty selected Alyssa Gutierrez for the Award. Alyssa is a dedicated vocalist who has helped to lead the school's Jazz Band for three years. "Alyssa has great potential for the future," said Mr. Modia. "Her excellent attitude, leadership, and dedication have been a great asset to our music program."
The Award winners this year at Ruth Broad Bay Harbor K-8 were two exceptional students, Kimberlee Cortiella and Aitor Cazalis. Nominated for the awards by lead music educator Onil Rodriguez, Kimberlee and Aitor have become outstanding musicians and model music students.
Kimberlee Cortiella has been the school's top vocalist and a hard working music student for five years. Dedicated and disciplined, she has excelled in voice and instruments. "Kimberlee has been our First Chair in the String Orchestra, and she also plays flute," said Mr. Rodriguez. "Alyssa is very talented and will have a great future," he said.
Aitor Cazalis is a multi-talented musician and an enthusiastic mentor to other students. He plays keyboards, cello, bassoon, and bass. He performs and records music, and has been a leader in the school's music program. "Aitor has many talents and has been a great part of our classes and performances," said Mr. Rodriguez.
Bob Novack Music Award winners were each honored at school assemblies and presented with information about the award's history, trophies, certificates, and a $150 scholarship check from 1308 Productions. Their names are inscribed on permanent plaques and records, and on the 1308 Productions web site: www.1308productions.org.
In addition, Mr. Rodriguez selected Amanda Oren-Rivas and Dario Curapic for special recognition by 1308 Productions. Amanda played in the school's guitar ensemble and orchestra, and Dario plays in the symphonic band. Each was presented with a $25 gift certificate for use at a music store.
1308 Productions presented the Carole Taran Award for Performing Arts recently at Miami Beach Senior High School. The award includes a scholarship check for $500.00 and widespread acclaim shining a spotlight on extraordinary performing talent. The 2018 recipient was graduating senior Kelmerz Jimenez.
"These awards are a truly great service to not only the recipients, but for all of our students," said Beach High Principal Dr. Maria Rodriguez, who up until this past year was Principal at Ruth K. Broad Bay Harbor K-8. "Students are inspired, and we are all appreciative of this kind of recognition that comes from outside of the school.
Attorney Paul Novack, as son of Bob Novack and representative of 1308 Productions, participates in the ceremonies and speaks to the students every year about their future potential. "The Novack family is really awesome," said RKB music lead teacher Onil Rodriguez.
"They have been active positive forces in our public schools for decades," said Nautilus music teacher Ray Modia. "They are special advocates for our students and our schools," said Mr. Modia, who has been at Nautilus for 39 years.
"1308 Productions, created by Jason Novack and Allison Novack, does so much for music programs and for the trajectory of students in our public schools," said Mr. Rodriguez. "Jason and Allison are graduates of our school and I am so proud of them."